Regular access to care is important for good health. However, a new report from AllWays Health Partners highlights that Americans across all generations aren't getting the care they need on a regular basis.

Last month on our broker blog, AllWays Insider, we published Breaking barriers to accessing care, which details the challenges that prevent people from accessing health services. We've summarized the report below, or you can jump over to our broker blog and download it yourself.

More posts like this

Four ways we're addressing pharmacy costs

Do these health care startups make accessing care more convenient?
Problem: Balancing medical costs and other necessities
No one should have to choose between getting care and paying their bills. But, the financial burden of medical costs can lead people to doing exactly that. A recent study asked consumers about the impact of their medical bills on other financial obligations and found that:
18% had to prioritize paying for health care over other bills like phone bills or car payments.
17% had to put paying for health care over living costs like groceries.
15% have had to prioritize health care over their rent or mortgage.
Problem: Delaying or skipping care
While a number of Americans are falling behind on their bills due to health care costs, the number going without procedures or treatments that would improve their quality of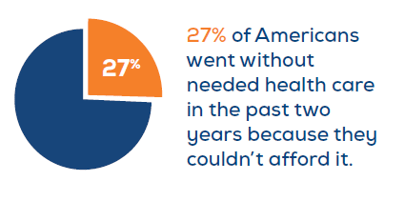 life is even greater.
According to another survey, 27% of Americans say they or a family member went without needed health care in the past two years because they couldn't afford it. This tracks with a recent Gallup poll that showed roughly three in 10 Americans held off seeking some kind of medical treatment in the past year.
The struggle to pay for medical care doesn't just impact individuals—it affects their families as well. According to one survey, 10% of Americans with children under the age of 18 have delayed care for a dependent or child because of financial issues.
Solution: Programs that help members access care now, not later
At AllWays Health Partners, we want all our members and their loved ones to get the care they need. But, we know that if we don't help remove their financial barriers, that care won't be accessible. Here are a few of our recent innovations aimed at lowering costs for care for our members.
Pediatric benefit
A new AllWays Health Partners benefit launching January 1, 2020 will provide coverage for the first 3 sick primary care provider visits and 3 behavioral health visits for members age 18 and younger at no member cost sharing, per benefit period, on most plans. By accessing this new benefit, members can ensure their children access treatment early, before small symptoms become larger, more costly problems.
Care Complement
The popular Care Complement benefit package offered on many AllWays Health Partners plans helps eliminate cost barriers to a diverse range of care options with proven benefits for chronic disease prevention and maintaining overall health. At no additional cost, members can access:
Their first six acupuncture, chiropractor, and physical therapy/occupational therapy visits

Copays on 11 medications that treat common chronic conditions

Cardiac rehabilitation therapies

Certain services that reduce the risk of complications from diabetes
Members with a prescription will also pay less for the over-the-counter medications their doctor prescribes. Those with chronic conditions or special health concerns can get personalized care from our team of health experts.
Rising costs are an ongoing challenge for our entire health care system. But, costs aren't the only barrier members face when it comes to getting the care they need, when they need it.
Our latest report highlights the benefits of preventive care, why many Americans struggle to access health services, and how insurers can combat these issues. Get all the details now in the Breaking barriers to accessing care report.